ASSETS UNDER MANAGEMENT (IN €BN)
Capital managed by Naxicap (€6,7 billion at the end of 2022) grew by a factor of x3 (CAGR +29,1%) over the 2014-2022 period.
This change, which is mainly the result of the result of Naxicap's development with institutional clients outside Groupe BPCE, testifies to the confidence of our clients and the quality of Naxicap's results.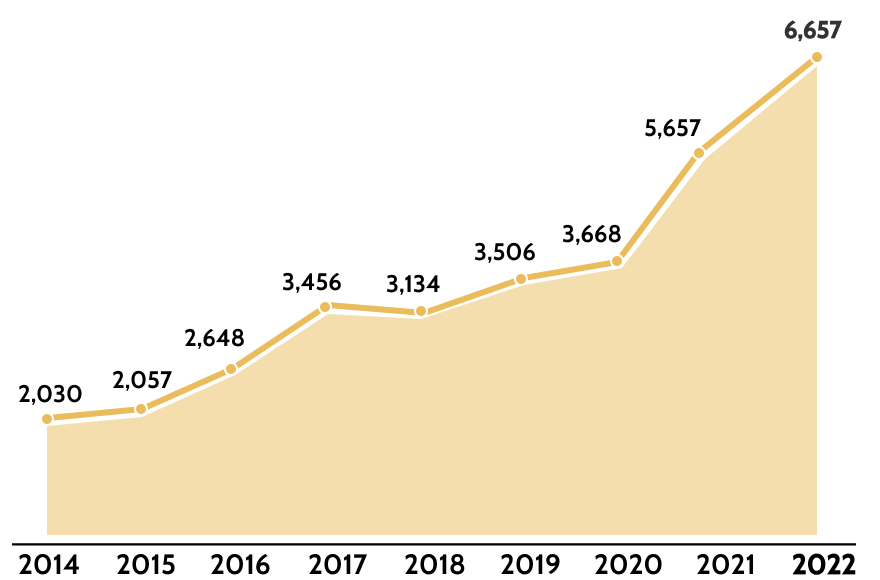 INVESTMENTS (€M)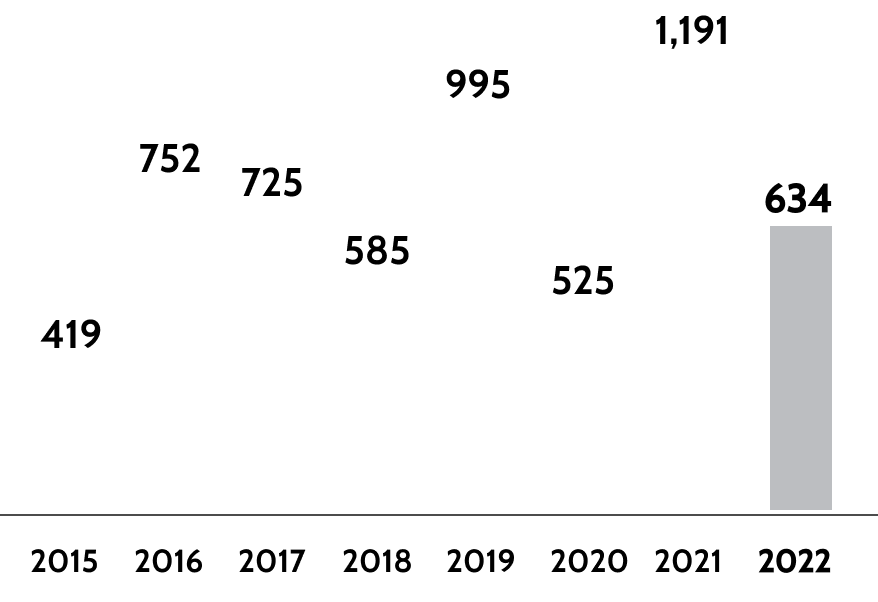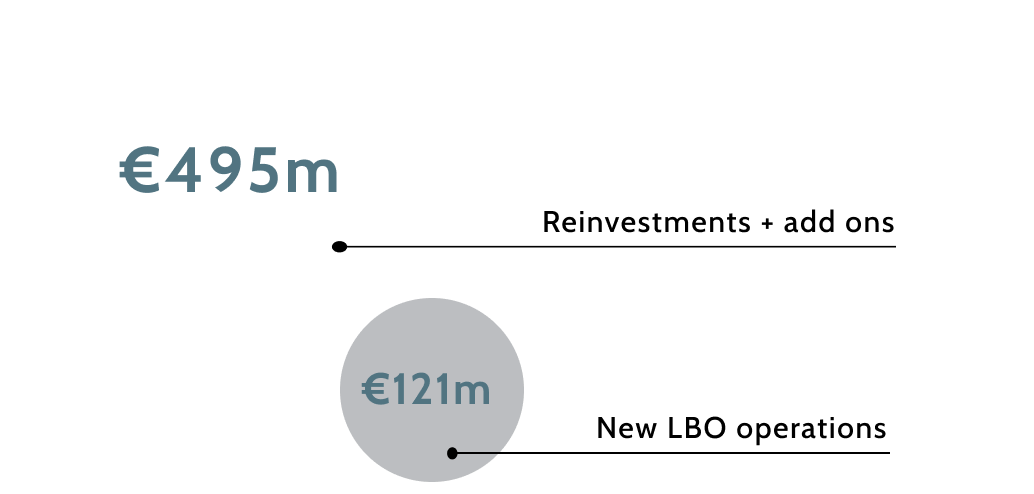 Since 2013, Naxicap has deployed nearly €6.1 billion of capital in the acquisition of new companies and in the development of its assets.

In 2022, in a market context that is difficult to read, Naxicap significantly reduced its interventions, preferring to focus its action on developing companies in its portfolio. New transactions (3, with the recently acquired Small caps activity) totalled €121 million (€980 million in 2021). The financing of build-ups and reinvestments, growing in 2021, represented €495 million.
DISPOSALS & CAPITAL GAINS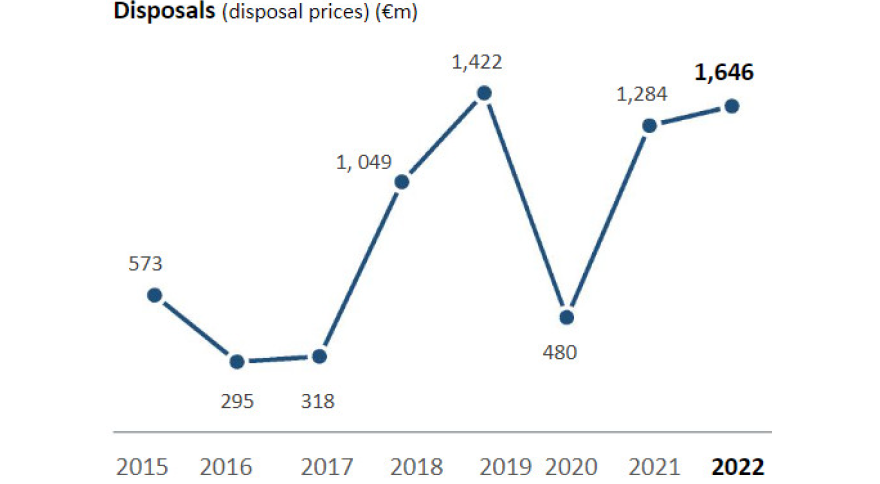 DISPOSALS & CAPITAL GAINS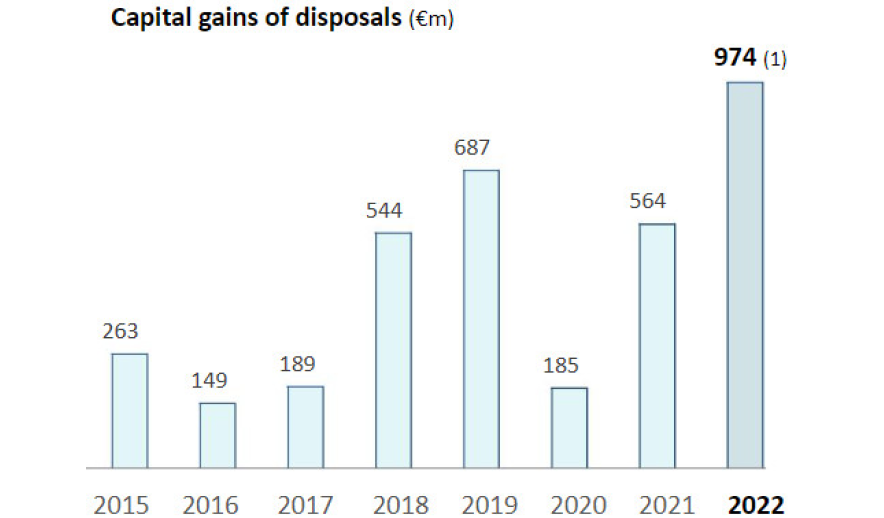 Over the past ten years, Naxicap has completed 27 disposals with an average CoC multiple of 2.7x and an average IRR per transaction of 27%*.
Naxicap's first 100% third-party primary fund launched at the end of 2016 (NIO I platform – vintage 2017-2019 – €1.7 billion), posted a portfolio IRR of 24%* as of December 31, 2022. The first exits (6 disposals ) total €1.9bn in returns (portfolio DPI 1.15x), with an MOIC multiple of 2.7x and an average IRR of 47%*.
In 2022, in a difficult market context, Naxicap focused its action on the rotation of its portfolio, with the completion of major disposals such as Maxi Bazar to the Zouari family group, Ondura to Kingspan and House of HR sold to Bain Capital for €2,9bn (EV).
(1) Figure adjusted for the refinancing operation / contribution of House of HR recorded in the 2019 financial year and capital gains on secondary reclassification operations (€623m).
*past performance doesn't prejudge future performance
MAIN SECTORS OF INTERVENTION
Naxicap has historically been involved in all business sectors. We mainly invest in profitable companies with comprehensible and stable business models. We adapt our priorities with agility according to our perception of the current sectoral economic dynamics. Most recently, we have focused on the health sector, education, PropTech and e-mobility (73% of investments in the NIO II platform).