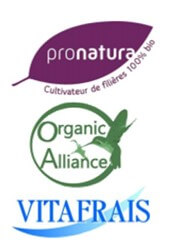 26 May 2016 VITAFRAIS prepares to join PRONATURA as part of ORGANIC ALLIANCE
VITAFRAIS chose ORGANIC ALLIANCE for support in its future development. The partnership also allows for VITAFRAIS' founding leaders to exit the company. Eighteen months after a MBO of PRONATURA led by Lionel Wolberg and his team, NAXICAP Partners, a majority shareholder of the Group, conducted its first structuring build-up transaction.
This will increase the size of Organic Alliance by more than 50% and strengthen its position as a leading specialist of organic products with a short shelf life. This acquisition is subject to the decision of France's national competition regulator (Autorité de la Concurrence).